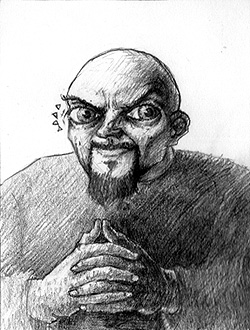 Our fictional mascot, Frank Delbruck has some suggestions for hypercomics work around the net.
He defines a hypercomic as anything that shares the characteristics of the comics form but include some features that are not directly reproducible in a print format. Hypercomic qualities may include sounds, animation, non linear navigation, etc.
Generally, hypercomics are native to the web.
This is a list of some hypercomics/ hypercomics-friendly web pages and sites. This is by no means a comprehensive list, and it's in sore need of updating. I imagine Frank will continue to add to it.
---
After Days of Passion by Antony Johnston and Ben Templesmith: One of the internet's earliest examples of non-linear narrative. The reader chooses their own path through the labyrinth of an imploding relationship.
The Aweful Science Fair by Jasen Lex: Arguably the king of the infinite canvas created with html. This series, while very scrolly, (caused more by the limiting tools of the web 1.0, than by creative choice) includes incredible compositions and a very painterly color sense.
48 Vignettes about Everything by Colin White: Through a Flash interface the reader is presented with a four panel strip, each panel can reveal a hidden strip about a person, place or thing. The fourth panel leads into the next set of strips.
Ray Murphy Detective of Dreams by FuFu Frauenwahl: The artist describes it best: "Structurally it's quite different from the most other webcomics, for it's not a linear story, but more like a hermetic circular continuum without a beginning and an end. There's a central roundabout of panels, with several paths branching out from them. But every path eventually leads back to the centre."
E-merl.com ~ New Experiments in Fiction by Daniel Merlin Goodbrey: Once considered webcomics' premier mad scientist. Creator of the Tarquin Engine and Pioneer of Flash techniques, his comics are challenging and irreverent. Merlin now focuses his skewed perspective more on (formally) standard fare, but we love him none the less.
I am a Rocket Builder by B. Shur: Restless innovator of web-based storytelling techniques. Known for packing all sorts of interactive goodies into his strips. His current project, Coming Home is presented with a mock operating system interface. Updates are unfortunately infrequent but worth the wait to see what he comes up with next. Put it on your RSS.
Music Comics by Jonathan Altschuler and Colleen Macisaac: Original comics work with original sountracks, an experiment in sonic synergy. Macisaac pens the comics while Altschuler composes the score. The creators work in tandem – each element affects the creation of the other. Makes for interesting effect – if you allow yourself to take it all in together.
Exit Music by Kean Soo: A pioneer in presenting comics and music in tandem on the web. Each comic is paired with a specific pop song for reasons of theme or emotional resonance. Kean's new work (done for print) is published by Disney, which is interesting considering both their litigiousness and his early experiments in intellectual theft.